Browse here for types of tile, shop our showroom for products of style.
Ceramic tile flooring offers you virtually endless possibilities. It's available in a wide range of textures, patterns and sizes, and when combined with a spectrum of grout and glaze options, ceramic tile delivers design options for every shopper, every home, and every kind of lifestyle.
However, there is only one kind of Baker Bros. showroom. It's where business integrity and customer satisfaction walk the floor constantly.
It's the place trust and honesty has called home for over 60 years.
Baker Bros. is also the one flooring center that elevates, educates and emphasizes style. In fact, if one word defines and differentiates Baker Bros., that's it.
Style is all about fashion and we dedicate ourselves to it every day, every way and everywhere through the Baker Bros. motto: "Where Fashion Meets Flooring".
And nowhere is this commitment to style greater than in our expansive product portfolio.
Here on our website, and at all seven of our valley showrooms, you'll discover an entire spectrum of beautiful, high quality ceramic tile brands.
So many styles, so much selection, so many choices that, at Baker Bros. you are assured of…
More products per square foot.
It's all showcased with your need for variety and personalization in mind. Our showrooms average more than 8,000 square feet. That's five times larger than the average flooring retailer. All for your viewing pleasure.
And to help you find your type of ceramic tile flooring, we've created these pages.
Because the number of tile choices, patterns, colors, textures and price points can intimidate even the most experienced shopper.
Knowing the basic types of ceramic tile can provide you with a firm foundation upon which to begin your shopping journey.
So please read on and we promise to be as clear and helpful as possible.
The basic 3: elegant, enduring and expressive.
There are 3 types of ceramic tile: glazed, unglazed and porcelain. Understand them and you're home free.
Click on a swatch below for more information

Glazed

Unglazed

Porcelain
Glazed ceramic tiles are coated with glass-forming minerals and ceramic stains.
Typically, they have a matte, semi-gloss or high-gloss finish.
They can offer better stain and moisture resistance than unglazed tile.
Glazed tiles can also have different finishes and you should be aware of them for future considerations.
High gloss finishes can be more slippery and scratches can become more visible, while matte or textured finishes help with traction and scratches, and dirt is less visible.
Unglazed ceramic tiles are very hard and dense. They come in various surface treatments and textures.
Typically, these are installed outside your home as they do not offer much protection against stains compared to glazed ceramic tile.
Unglazed tiles do have good slip resistance, however please note that they do require sealing to help prevent staining.
Porcelain tiles usually fall in the ceramic tile category and are the hardest and densest tiles available.
Because the color in porcelain tile goes all the way through, they are non-porous, resist scratching and can withstand temperature extremes.
---
A size for every need.
Ceramic tile is manufactured in sizes ranging from one inch to twenty-four inches square. So bring a tape measure when you go shopping.
Ceramic tile is normally boxed and priced by the square foot, regardless of the size of the individual tile itself.
You should also know that tile size is relative. Tile is usually referred to by its nominal size, not its actual size.
During the firing process, ceramic tile will shrink, on average, by about 10% in size. For example a 12" by 12" floor tile may actually measure 11-1/2 inches square.
Currently, the most popular ceramic floor tile are the larger sized tiles such as 13" by 13", 16" by 16" and 18" by 18" sizes.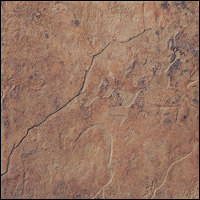 Room size, not tile size, is step 1.
When considering what size tile would be appropriate for your given space, start by determining the size of the room.
Often times, people think that small rooms call for small tile. That is not necessarily true. In fact, incorporating a larger size tile in a smaller room will visually increase the size of the space. And fewer grout lines will help create a cleaner surface appearance. The choice is yours.
Conversely, using a tile size that's too small creates more grout joints that may make the floor look too busy, again depending on the size of the space.
The bottom line here is that, as with all design elements, scale plays an important role in creating a room's overall balance. So, please consider it carefully to achieve your desired look.
Tile is a cost-effective alternative to stone.
The look of natural stone is very popular but some consumers prefer ceramic tile over stone due to price and maintenance considerations.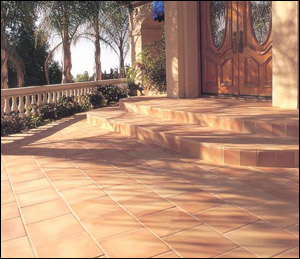 In answer to consumers' demands, ceramic and porcelain manufacturers have created tiles that offer textures, colors and patterns resembling natural stone products.
Of the most sought-after looks in ceramic and porcelain tile, slate, travertine and marble are just a few.
To further enhance the natural look, tile can also be made to feature heavy textures, chiseled and hammered edges, and even resemble tumbled stone.
Ceramic tile texture is related to its style. So feel free to feel! The feel of a tumbled stone or slate looking ceramic tile will be irregular and somewhat rough.
A tile simulating marble or granite on the other hand, will have a very smooth, polished feel. In addition to the feel, textures also vary in degree of shine, ranging from dull to semi-gloss to glass-like.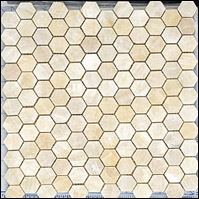 Ceramic tile works outside too.
Ceramic tile is a versatile product, with many styles designed for today's popular outdoor living areas.
Outdoor tile typically features non-skid finishes designed for safety when wet, sometimes installed on patios, walkways, or around pools.
Another important characteristic of ceramic tile designed for outdoor applications is its resistance to frost.
It's a cold, hard fact, shopper. Ceramic tile manufactured for outdoor use has very low water absorption, minimizing the cracking, chipping and other effects of expansion when the temperature falls below freezing.
Beyond basic styles, tile is the king of customization.
In addition to ceramic tile styles, manufacturers also offer decorative inserts, medallions and mosaics that are used to create intricate patterns and beautiful borders.
Tile size 2"x2" and smaller are usually referred to as mosaics and are often used with different colors to create a pattern or decorative inset.
Some of these smaller tiles also come in different shapes, such as hexagon, so feel free to let your imagination run free.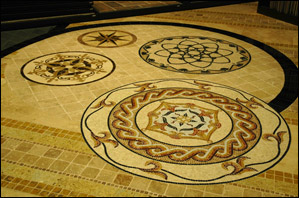 Patterned borders made up of different size tiles or different colors can create beautiful looks.
Simple variations in color, shape or size can be patterned within a room, or across several adjoining rooms.
When creating a pattern with different tiles, you should know that the more prominent tile that is throughout the largest areas is called the "field tile".
With a little imagination, even the simplest design appears customized.
Combining styles and patterns of ceramic tile flooring with countertop and wall products can also create beautiful designs, and give your room an aesthetic balance.
Floor and wall tiles may be designed to look similar, but floor tiles are generally thicker and are textured to make them safer to walk on.
Wall tile styles are typically designed to have higher gloss, and are manufactured in smaller sizes. The large floor tiles are not designed to adhere to walls.
Grout impacts the overall look.
Grout is a type of cement that is used to fill the space and provide support in tile joints.
There are two types of grout commonly used in home installations; Portland cement based, and epoxy based.
Both of these grout compounds may have sand added to provide additional strength to the tile joint.
Sanded grout is recommended for tile joints 1/8th of an inch and larger. Unsanded grout is an option used in joints that are smaller than 1/8th of an inch.
Grout can be pigmented to give a nearly infinite range of colors, shades and hues.
Pigment is added to the cement at the job site when the grout is mixed. Grout color and thickness will change the appearance of the floor and room dramatically.
Using a white or a light colored grout highlights the color in tile. Choosing a dark grout with a light tile, or light grout with a dark tile, will emphasize the geometric pattern of your layout. So be wise and plan accordingly.
Those are the basics regarding ceramic tile types.
For more information, see the other ceramic tile sections. Or visit one of the seven conveniently located Baker Bros. showrooms.
There you'll find more showroom area than the typical flooring store. More knowledge and experience per sales person.
More products per square foot.