We know how ceramic tile is born, and share our knowledge here.
At Baker Bros. we do much more than bring beautiful, high-quality flooring into Arizona's homes and lifestyles. We are also students of the products we offer you, curious about their creation and forever learning about their newest applications.
And we stay informed. Baker Bros. conducts monthly training sessions for its sales associates to share the latest information on our product lines.
That way we are thoroughly prepared for when you visit us. And even then we apply our ongoing curiosity to learning about you and your needs.
First, we answer your questions. With each member of our sales team averaging over 15 years of flooring experience, you can count on us for deep, wall-to-wall wisdom about ceramic tile flooring.
The fact is, when it comes to ceramic tile, Baker Bros. offers you…
More knowledge per square foot.
Then we go a step further. We ask you questions. The right questions to help us understand your exact flooring requirements. Questions whose answers help us define your expectations.
Then we exceed those expectations. And do it all with style. Style and fashion in the products we offer you and a style of integrity in our relationship with you.
That's why we say Baker Bros. is "Where Fashion meets Flooring". In our view, a ceramic tile floor is the combination of taste and technology, the union of style and substance, elegance and performance.
And, in this section, knowing how ceramic tile is made can be very advantageous. It enables you to understand the product's materials right from their birth.
Remember that these are materials you will be living with, and on, should you choose to have a Baker Bros. ceramic tile floor installed in your home.
Being familiar with tile construction also helps you understand and evaluate its performance aspects.
Plus, perhaps most important, understanding how ceramic tile is created can make you a smarter shopper, help you better determine tile value and keep you inside the borders of your budget.
So please read on, and we'll do our best to help you understand what makes ceramic tile such a beautiful and unique flooring possibility.
Tile combines earth and fire.
The main ingredients of ceramic tile and its general manufacturing process have not changed that much throughout the centuries.
All ceramic tiles are created from natural products extracted from the earth that are shaped into tiles and then fired in kilns at extremely high temperatures.
Glazed tiles have a hard non-porous, impermeable surface after firing. They are more stain resistant than unglazed tile and are easy to clean. Something to consider for those more active areas of your home like the kitchen and baths.
In this section we will take a look at ceramic tile types, the manufacturing processes, and tile rating systems.
The world of ceramic tile has two hemispheres.
There are 2 main types of tile construction: glazed and unglazed.
When you look at a glazed tile from the side you can see 2 layers. The body of the tile, or largest layer, is called the bisque. The top layer is called the glaze, as in glazed donut.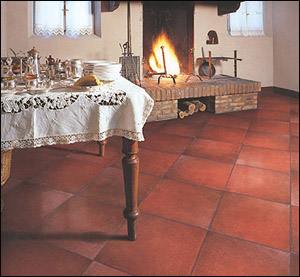 Unglazed tiles add a whole different beauty to your home. They are solid colored all the way through and do not have a top layer of glaze. This is often referred to as through-body construction.
They have no additional surface applications and are typically more dense and durable than glazed tile. Thus they are more suitable for interior and exterior applications where wearability is a concern.
If your home has areas of heavy activity or kid "zones," unglazed tile may be just the answer.
There are 5 steps in the ceramic tile manufacturing process: Mining, Blending and Mixing, Pressing, Glazing, and Firing.
Step 1 is elemental and earthy.
The process begins with the mining of the raw materials, which is a mixture composed of mostly clay and minerals.
Step 2 introduces mud into the mix.
The clay and mineral mixture is blended and mixed into a semi fine powder.
Water is added to form a wet slurry or mud-like consistency. Then the slurry is pumped into a large dryer.
And the result? A fine clay powder that feels like warm, fine sand.
Step 3 applies pressure to the process.
Next, the clay is pressed or formed into a tile shape. These pressed tiles are called green tiles at this stage.
There is also another method called extrusion which can replace the pressing step. Extruded tiles are formed by forcing the clay material through a mold for the desired shaped versus pressing the tile.
However, pressing is the more common method used today. And after the green tiles are formed they are dried to remove some of the moisture.
Step 4 is the glaze phase.
It's the next step in the manufacturing process for those tiles that will have a glaze.
If the tile is to remain unglazed it skips this step and goes directly to the firing kiln.
The glaze liquid is prepared from a glass derivative called frit and colored dyes. The glaze is applied by either a high-pressure spray or is poured directly onto the tile.
Step 5 really heats things up.
The ceramic tiles are now fired in the kiln at temperatures around 2000 degrees Fahrenheit.
Tiles that are fired once after the glaze is applied are called monocuttura tile or single fired.
The other type is called biocuttura or double fired tile. Biocuttura tiles are first fired after the green tile is dried and then fired again after the glaze is applied.
An elegant, durable alternative is porcelain.
Aside from the 2 types of ceramic tile, glazed and unglazed, there is another category that continues to gain popularity – beautiful, elegant, porcelain tile.
Porcelain tile is made up of 50% feldspar and is fired at a much higher temperature than regular ceramic tile. This makes porcelain tile much harder and more dense than other tile products.
Their high performance and low water absorption ratings of less than 0.5 percent make these tiles a worthy choice for your home.
Additionally, porcelain tile can be used for interior and exterior applications as well as heavy or commercial areas.
After the finished tiles have been inspected for quality assurances, they are packaged, crated and ready to be shipped.
A word to the wise.
Not all ceramic tile is suitable for each area of your home. The beautiful, decorative tile you might put on your kitchen backsplash may not be recommended for installation on the floor.
A rating system is called for and that's exactly what the tile manufacturers have provided. Now let's take a look at that system.
Got traffic? Here's your ticket to smarter shopping.
Most manufacturers will have a rating system that is based on or supported by the American Society for Testing & Materials (ASTM). Many times you can find these ratings on the tile sample or in the product catalog.
The most common system rates ceramic tile abrasion resistance or the overall durability of the tile. There are 5 classes you should be aware of.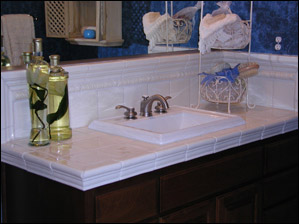 Class 1: no foot traffic.
These tiles are suggested for interior wall applications only and not for the floor.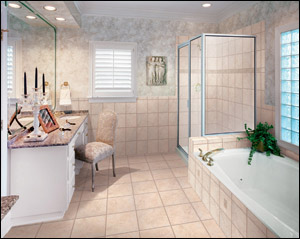 Class 2: light traffic.
These tiles are suggested for interior wall applications and for residential bathroom flooring only.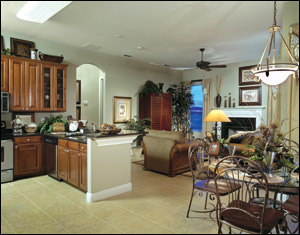 Class 3: light to moderate traffic.
These tiles can be used for residential floor and wall applications including bathrooms, kitchens, foyers, dining rooms and family rooms. They're a good all-around performer.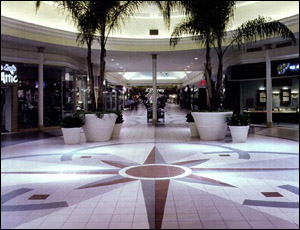 Class 4: moderate to heavy traffic.
These tiles are recommended for residential, medium commercial and light industrial floor and wall applications including shopping malls, offices, restaurant dining rooms, showrooms and hallways.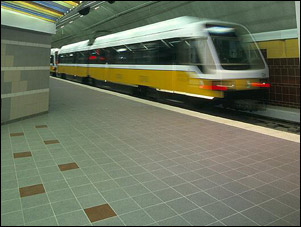 Class 5: heavy/extra heavy traffic.
These tiles can be installed anywhere. They will hold up in floor and wall applications at airports, supermarkets and subways. Tile doesn't get any tougher.
You may also see a rating for Slip Resistance, which is measured by its Coefficient of Friction (COF). The higher the COF the more slip resistant the tile. This is important when selecting a floor tile for areas that get wet, such as your shower or bathroom floor.
Other ratings listed by the manufacturer might include: scratch resistance, moisture absorption, chemical resistance and breaking strength.
That's a brief explanation of ceramic tile types, manufacturing processes and rating systems.
At Baker Bros. we believe that the right knowledge can be as functional and practical as ceramic tile itself.
We also hope that the information we've featured here leads you to a better understanding of how this beautiful and versatile product is created, and helps you be a better, smarter, more educated customer.
And when visiting any of our seven valley showrooms, don't hesitate to ask us more about the world of ceramic tile. At Baker Bros. you can be assured of…
More knowledge per square foot.