Steps to take before the installers step into your home.
At Baker Bros., the place "Where Fashion Meets Flooring", we manage hundreds of flooring installations every week, week in and week out.
We don't know how many floors we've installed since Jack and Carl Baker opened for business in 1945, but we'll bet no one comes close.
Today, our professional flooring installers use the very latest techniques and every one of our installation teams is licensed, bonded and insured. The fact is, nobody knows or performs flooring installation better.
Which is why, when it comes to installing your ceramic tile flooring, Baker Bros. offers you…
More answers per square foot.
All the answers you need to be knowledgeable and prepared for the big day when new ceramic tile flooring will transform your home.
Being ready for the installation of your tile flooring will make the entire process go faster and more efficiently.
Knowing what to expect and being prepared will also be a lot less stressful on you, your family and your home.
So check out the information below, be flexible and anticipate, then look forward with confidence to the day your new tile flooring comes home.
Get the best possible results: let Baker Bros. install your tile.
Installing this type of floor is difficult work, labor intensive and extremely exacting.
We strongly recommend you call upon the reliable, seasoned and dedicated professionals of Baker Bros. to install your ceramic tile floor.
That way you can be assured of a beautiful, efficient and correct installation. Which is precisely what our goal is for you.
However, while installing ceramic tile flooring is a skill that is developed through years of experience, your understanding of the basics of installation will increase your knowledge of the process and enhance your confidence in the professionals working in your home.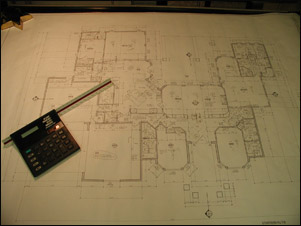 So please allow us to cover some of the fundamentals with you.
Ceramic tile installers are craftsman with age-old skills. Expertise has been handed down from one generation to the next over dozens of centuries.
Through the years, new methods and materials have been introduced, but tile setting remains the same hand-operated, labor-intensive process that it has been since ancient times.
The process begins with the preparation of the ceramic tile foundation , or what's called the substrate.
Common materials used as tile substrates in home installations include concrete, plywood, and drywall.
Our installers will prepare the substrate by different methods, depending on the substrate material, and where the installation occurs.
Each substrate has its own unique set of issues, yours included, and is prepared according to industry and manufacturer guidelines. So you can rest assured it's done to recognized standards.
The first step in your ceramic tile installation involves the cleaning of the substrate. Dirt, moisture, and oil can interfere with the adhesion of the tile, so care is taken to remove all foreign debris prior to beginning.
Next the installers will level the surface of the substrate. Why is this step necessary? It's to provide a strong support base for the tile, and to ensure that the individual tiles will appear flat when installed.
Flat, obviously, is the goal. If the substrate is not level or flat, the result could be tiles not being set correctly that can cause chipping or cracking when weight is applied.
Once the substrate has been leveled it may have a waterproofing layer applied to it. This is important in installations where the tile is frequently exposed to moisture, like kitchens, bathrooms, and exteriors.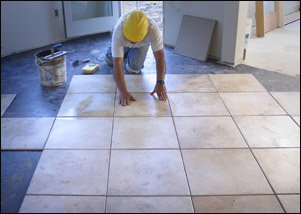 Tile setting has progressed through thick and thin.
In the past, ceramic tile was installed using what is called the thickset or mud set method.
In this method, a thick layer of mortar was applied to a waterproofed and steel reinforced substrate. This provided a strong, flat base onto which the tile was installed.
The thickset method is the most effective installation method for 18" or larger tile. While it is an involved, labor-intensive and more costly process, it is the only proper way to install larger tile.
Today, many tile installers have opted for the industry accepted and more efficient thinset method, where the tile is adhered directly onto a backer board that is nailed to a plywood or concrete substrate using a much thinner layer of mortar.
This backer board is called a CBU, or cement backer unit, which provides a supportive and water resistant layer between the porous substrate and the mortar and tile applied on top of it.
You don't need to understand all that, just that it works, and works well.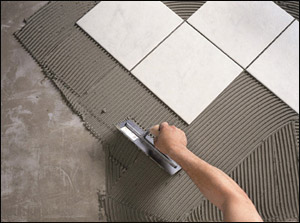 And now, the planning stage.
Once the substrate has been prepared, the next step is to create a layout plan.
This plan shows the dimensions of each room, and will help determine the amount of ceramic tile and other materials needed for the installation.
Our installers will use this plan to estimate the amount of product needed, and to anticipate any installation issues that may be caused by architectural features like stairs, transitions, and cabinets.
Our installers will also use the layout plan to determine the pattern and orientation of the installed tile.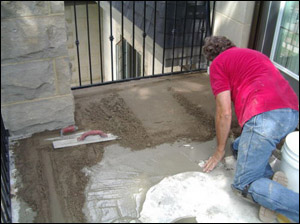 When it comes to accuracy, we tow the line.
A chalk line is commonly used to lay down a guide for our installers to work from.
This leaves a temporary line that can be used as a straight guide.
The installers may lay out some tile with spacers to give them a better sense of how the tile will fit into the room. Some installers will just use the chalk line as their guide and get right to the installation.
Once they have determined the correct layout, the next step is to apply the adhesive mortar to the substrate.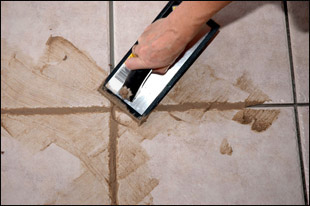 The last step is all about grout.
Once the tiled floor has been set into place and left to fully cure, usually 12 to 24 hours, the grout is applied. Quick set grout is also an option for smaller areas or where time does not permit. Please discuss this upgrade option with your salesperson.
Grout is available in a wide range of colors, and in sanded and unsanded forms.
Sanded grout is commonly used for grout joints that are wider than 1/8 th of an inch. This type of grout joint is typically used with floor tile because it helps strengthen tile joints and it will not sag after it is cured.
Unsanded grout is used with narrow grout joints typically found with wall tile and many natural stone installations.
So, you may be wondering, how long before I can walk on my new floor?
The mortar and grout need 24 hours to cure before walking on the tile.
This ensures that the tiles won't shift or become loose before the adhesive thinset mortar and grout have a chance to set.
In some installations the tile may be mopped daily for several days to prevent the grout from cracking, pulling moisture from the underlying mortar, or curing unevenly.
And that is how your new ceramic floor will be professionally installed.
What to do before the day of installation
Work with your furniture first.
Remove all your furniture and other objects and materials from the areas where the installation will take place. Before moving, you'll also need to empty the contents of china cabinets, closets, refrigerators and the like.
Your present floor covering needs to be dealt with.
Please consider how your old floor covering will be taken up and disposed of. This can be a time consuming task. We would be happy to discuss removal options with you.
If you prefer to remove your present floor covering, do it at least one day prior to arrival of your ceramic tile product to allow for cleanup and floor preparation. If removing old carpet, please remove all materials, the tack strips and the pad, including staples.
Have a plan regarding the trim.
You should know that, in many cases, moldings and baseboards need to be removed for ceramic tile installation. Our installer will do this for an additional charge but they will not be responsible for damage or breakage due to dry or brittle wood.
Painted baseboards, woodwork and paint may need retouching after the installation is complete. If necessary, this is your responsibility.
Get professional advice about your subflooring.
Your existing subfloor may need to be prepared to receive the new tiles, or a new subfloor may be required. This is a job best left to the professionals and, again, we can help you with these decisions.
It is important that the subfloor be as clean and level as possible. That helps insure your new ceramic floor will be as beautiful and well supported as possible.
The best policy is an open door policy.
When ceramic tile flooring is installed, there's always the possibility that the doors, especially closet doors, basement and bedroom doors, may not clear the new tile and swing free.
Our installers will remove doors in order to install the tile and re-hang them if possible. If there is a clearance issue you will need to arrange for a qualified carpenter to shave or cut down your door(s) after the installation of your new floor.
Know this about clean-up.
Installing new ceramic tile will produce waste. These materials will be collected and disposed of by our installers.
What to know and do during installation day
Be home and available on installation day.
Be prepared to be at home the day of installation and be available in case our installation crew has questions. Your presence will insure that the correct ceramic tiles are installed in the right areas. Because it is difficult to estimate the length and circumstances of each job, we may not be able to give you an exact time of arrival but we will provide a time frame.
Safety is our priority.
Our installers will use a variety of tools and techniques that can make the work area hazardous. Please make sure that your children and pets are kept out of the work area on installation day.
Your safety and your family's is priority for our installation crew.
Follow through with a walk-thru.
We recommend that, prior to the completion of the installation, you walk thru the job with our installation team. This will give you the opportunity to ask questions and be clear on any final details. Baker Bros. wants you to be completely satisfied with your new ceramic tile flooring.
What to know and do after installation day
Ensure that there's breathing room.
If you are sensitive to dust and odors, good ventilation should be established for 48 to 72 hours after installation.
Being prepared is the result of being informed.
We want you to be as well prepared as possible for the installation of your new ceramic tile flooring. To that end we've assembled the most knowledgeable sales people and the most experienced installers to provide you with solid information, reliable resources and proven solutions.
Since 1945, Baker Bros. has helped thousands of customers prepare for installation day by offering them…
More answers per square foot.
Baker Bros offers: